Inverex Inverter 5.2 kW Price in Pakistan
Affordable Solar Power Solutions Solar power technologies have made great headway in Pakistan as the country welcomes the transition to clean and sustainable energy sources. Inverex has established itself as a reputable brand known for its outstanding inverters and is one of the key players in this revolution.In this article, we will examine the Inverex Inverter 5.2 kW Price in Pakistan, making it simpler for you to start using solar energy.
The 5.2 kW Inverex Inverter: A Strong Solar Companion A solar inverter called the Inverex Inverter 5.2 kW captures the sun's plentiful energy and transforms it into useful electricity for your house or business. 
This inverter, which has a 5.2 kW capacity, is appropriate for medium- to large-scale solar power systems. Key Characteristics of the 5.2 kW Inverex Inverter High Efficiency: High-efficiency ratings on the Inverex 5.2 kW inverter guarantee you get the most out of your solar panels. Over time, this efficiency results in increased energy production and cost savings.
Inverex Yukon 5.2 KW Solar Inverter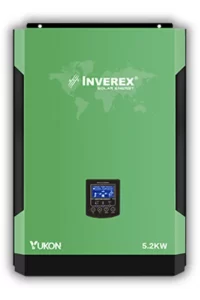 Automatic Sync with the Inverex power wall.
Pure sine wave inverter with high efficiency (PF=1)
80A MPPT SCC with a broad PV input range (120Vdc-500Vdc).
smart 80A three-stage AC battery charger.
Prioritization of utility and solar input is made possible by intelligent functionality.
Use USB/RS232 to monitor, troubleshoot, or communicate.
Quickly transform the system into a small, wall-mounted system.
5000 WATTS of additional MPPT solar charger controller power.
operates effectively without a battery
Adaptable to both generator and main voltage.
Integrated Anti-Dust kit.
5 Years Warranty
4-5 days for standard delivery.
Advanced Maximum Power Point Tracking (MPPT) Technology
The 5.2 kW model of the Inverex inverter is furnished with MPPT technology. By continuously altering voltage and current to enhance the power output from your solar panels, MPPT optimizes the energy harvesting process. Strong Construction: Inverex is well known for the longevity of its products. Long-lasting performance is ensured by the 5.2 kW inverter's design to endure adverse climatic conditions. User-Friendly Interface: Inverex inverters' user-friendly interface makes installation and operation a breeze. Your solar system's performance may be easily tracked, and settings can be changed. 
The Inverex Inverter 5.2 kW Price in Pakistan 
The Inverex Inverter 5.2 kW's pricing in Pakistan might change depending on several variables, such as the area, stock, and any active specials or discounts provided by accredited dealers. The price range for the Inverex Inverter 5.2 kW in Pakistan is between PKR 190000 to PKR 60,000 as of the most recent update. Please be aware that the cost of solar products may change over time, owing to market changes, technological advancements, and other factors. Speaking with authorized Inverex dealers or visiting their official website is imperative for the most up-to-date price information.
Why Invest in the Inverex Inverter 5.2 kW?
There are many benefits to purchasing the Inverex Inverter 5.2 kW for your solar power system:
Cost-Effective: The Inverex 5.2 kW inverter delivers dependable and efficient performance to help you cut your electricity costs. It also offers outstanding value for the price.
Reliability: Inverex has a history of making dependable, long-lasting inverters. If you take care of your 5.2 kW inverter, it should last you for many years.
Sustainability: Using the Inverex Inverter 5.2 kW to harness solar energy, you help create a cleaner, more sustainable environment by lowering your carbon footprint.
Energy Independence: Solar energy offers energy independence by lowering your dependency on traditional grid electricity and providing a more reliable power supply, particularly in regions that experience frequent power outages. Installation and upkeep It is advised to have your Inverex Inverter 5.2 kW fitted by qualified personnel to guarantee the best performance. Its longevity and efficiency can be increased with regular maintenance, which includes cleaning the solar panels and checking the inverter.
Conclusion
An excellent and strong method of using solar energy in Pakistan is the Inverex Inverter 5.2 kW. Although the cost may vary according to your region and other variables, it provides a strong return on investment by lowering energy costs and promoting sustainability. We advise contacting authorized Inverex dealers or going to their official website before purchasing to get the most recent price details and find out about ongoing sales or installation services. With the Inverex Inverter 5.2 kW, harness the power of solar energy and get closer to a sustainable and greener future.